Mission
To promote literacy and provide cultural enrichment that enhances the Bay County Library System and strengthens the community.
History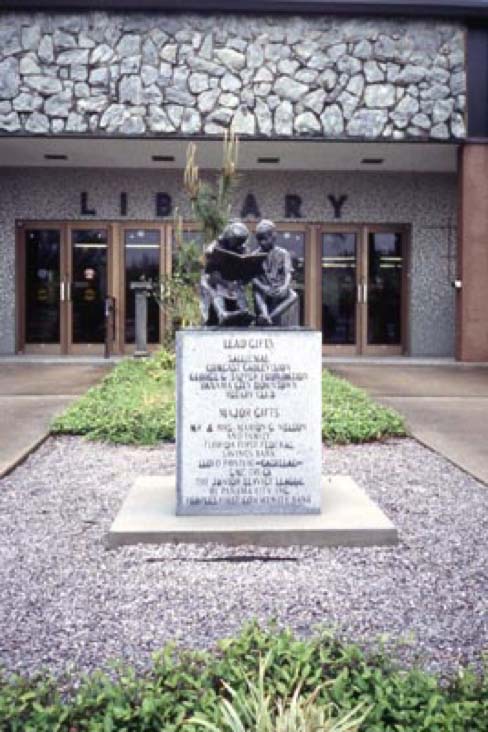 The Bay County Public Library Foundation, Inc. was incorporated in 1983. The first board of trustees was Irene L. Christo (Chair), Norman Coggeshall (Vice Chair), John R. Middlemas (Secretary), and Earle Thompson, Jr. (Treasurer).
The Foundation was originally fostered by the Friends of the Library, with one primary goal; establish and administer a foundation fund through contributions and endowments from citizens of Bay County.
In 1985 the Foundation was recognized by the IRS as tax exempt under section 501(c)(3), and contributions and endowments to the foundation are tax deductible.
The Foundation has participated in several fundraising campaigns and signature events. The "Vision Through Sculpture" project had a goal of raising funds to establish an endowment for the Foundation and provide a gift to the library. W. Stanley Proctor, renowned sculptor and native Floridian, was commissioned to create a bronze sculpture for the front of the library, which was then located at the Panama City Marina (see photo above). The sculpture was dedicated on January 24, 1995. It currently resides in front of the Bay County Public Library on West 11th Street.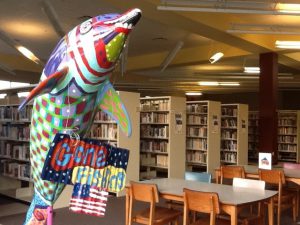 The 2002 Dolphin Splash fundraiser involved artists from across the community who decorated dolphins which were auctioned.  Proceeds benefitted the Foundation as well as several other charitable organizations including Girls, Inc., Taunton Children's Home, Panama City Beach Boys & Girls Club, and the Gulf Coast Community College Foundation.
Residents and visitors to the area can still see the dolphins in libraries and businesses around town.  The dolphin pictured lives at the Bay County Public Library.
Perhaps the most well-known signature event of the Foundation was the Books Alive Festival of Reading. An annual event from 1999 – 2016, Books Alive showcased local, regional and nationally known authors.
Past keynote speakers have included several New York Times bestselling authors, a Pulitzer Prize winner, a Governor, a United States Congressman, a Presidential candidate, and a "60 Minutes" network producer. Judy Blume (photo right), Rick Bragg, Tim Dorsey, Bob Graham, Steve Berry, Jeff Shaara, Carl Hiaasen, Jeffrey Toobin, Lisa Wingate, Sharon Draper, Kwame Alexander, and Pat Conroy are just some of the authors who presented during Books Alive.
Beginning in 2017, the Foundation turned its attention to individual author events and other literary events in order to offer special presentations throughout the year.
Since its incorporation in 1983, the Foundation has raised and donated thousands of dollars to enhance the quality of life in Bay County.